3 Items in Grid
4 Items in Grid
List
Supermarket and roller conveyors
A well-structured and well-organized warehouse requires specific requirements that Lean Manufacturing teaches us: one of the basic principles of supermarket warehouses is to eliminate waste and make production processes more linear. The warehouses organized according to this principle pay particular attention to all those superfluous activities that can be eliminated and allow to reduce storage spaces, thus giving greater attention to procurement by reducing reordering stocks.
The supermarket warehouses are composed of aluminum structures, ecological and 99% recyclable, and gravity roller conveyors that exploit the inclination.
Roller conveyors are industrial systems for handling loads and goods inside warehouses or production plants: they optimize the transfer times of goods, increasing efficiency and reducing the load for operators. The rollers of which they are composed rotate, exploiting the inclination and the force of gravity, to make the goods slide without using a motor and make them available to the operator also allowing to have, if required, a plane with opposite inclination for the removal of voids.
We therefore propose customizable solutions on request, quickly and quickly. We design by evaluating the task of the operator who, during each operation, must find all the pieces he needs available and must be able, when the material inside a box runs out, to eliminate and replace it. Both solutions are based on the FIFO (first in, first out) concept: the new materials will thus be restored directly from the rear of the structure. The last to arrive will be the last to be used: this is how the oldest components will be used first. A simple, functional and automatic organization that saves time and reduces waste.
It is possible to optimize spaces by creating supermarket warehouses for containers with standard sizes 200x300 mm, 300 x 400 mm, 600 x 400 mm.
Single blocks

Standard block: the most used solution that allows the picking of both individual components and the container.

Staggered chuter: solution used for applications where a high number of shelves and easy access to the removal of individual components are required.

Supermarket with double inclination: solution that offers the highest level of ergonomics in picking.
Multiple blocks

For an optimal solution we recommend to avoid creating too large supermarket warehouses but to use combinations of modules of reduced dimensions.

+

=
Supermarket assembly with times reduced to a minimum

With the pre-assembled supermarket warehouses you will only have to add the horizontal profiles to reach the desired width and insert the rollers.

1. Order premunted supermarkets side elements
2. Cut the orizontal profile
3. Add the desired number of racks
Double profiles
Where greater load resistance is required, the Green Frame allows the profile to be doubled.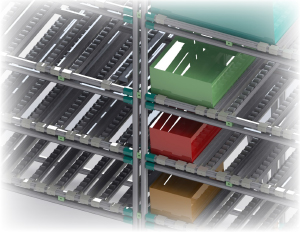 Space optimization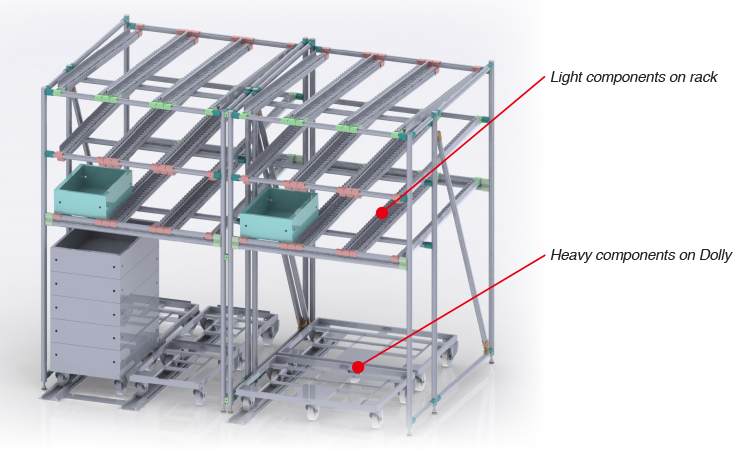 Level return system

There are 3 possible vacuum return systems:
• lower level
• upper level
• lateral

Choose the one that best suits your needs in terms of space and ergonomics.

Lower level vacuum return system
Lower level vacuum return system
Analysis of the maximum flow rates of the roller conveyors
Plastic guide details

Side guide






Central guide
Roller details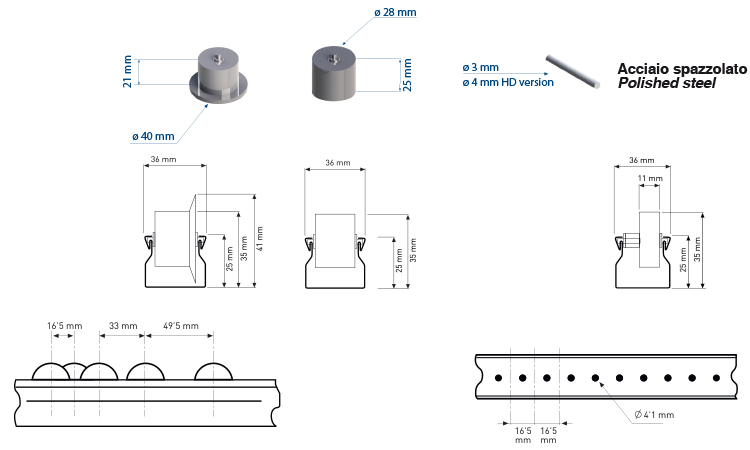 Multimedia